Wakefield Trinity's 1962 tour of South Africa
This tour was something that I wasn't even aware of until I got a copy of 100 years of Rugby - The History of Wakefield Trinity Football Club a few years ago, and it peaked my interest. I realised how little I knew about South Africa and South African Sport. In my ignorance I assumed that Wakefield must have defied a sporting ban to play there, but they didn't – to put this in context the Sharpeville massacre had taken place in March 1960, the ANC was outlawed soon after and the White Republic was declared in May 1961. The IOC would go on to ban South Africa from the 1964 Olympic Games as the SA selectors were not prepared to pick a multi-racial team. The infamous cricketing boycott caused by the selection of South African Cape Coloured Basil D'Oliveira in the England team did not occur until 1968.
The South African National Rugby League invited Wakefield over to help develop and spread the game. Had Wakefield beaten Huddersfield in the League Championship Final, they would have been the first team in 34 years to win all four trophies on offer, so playing Wakefield was an enormous task for any opposing team.
You could say that either the tour was a total mismatch with Wakefield scoring 281 points and conceding 66, or that it played a part in giving proper match experience to those South Africans already playing rugby league. Either way, due to an internal rugby league schism within South Africa between the National Rugby League and Rugby League South Africa, the sport never took off.
Wikipedia doesn't tell the whole story, but it's pretty interesting stuff...
Club captain Derek Turner was away touring for Great Britain in Australia, and Wakefield's vice-captain Keith Holliday allowed Alan Skene the honour of captaining the club in his home country. Four South African guest players also played for Trinity – Fred 'Poensie' Griffiths (Wigan), Tom Van Vollenhoven (Saints), Wilf Rosenberg (Hull) and Ed Brophy (Leigh).
Tour results:
| | | | | | |
| --- | --- | --- | --- | --- | --- |
| Date | Location | SA Team | | | |
| 30th June | Milner Park, Johannesburg | Johannesburg Celtic | 6 | Wakefield | 52 |
| 3rd July | Rand Stadium, Johannesburg | Boksburg Vikings | 15 | Wakefield | 42 |
| 6th July | Springbok Park, Bloemfontein | Bloemfontein Aquilae | 9 | Wakefield | 48 |
| 9th July | Kingsmead, Durban | S.A Invitation XIII | 3 | Wakefield | 59 |
| 14th July | Willowmore Park, Benoni | S.A Invitation XIII | 25 | Wakefield | 38 |
| 17th July | Pretoria | S.A Invitation team | 8 | Wakefield | 42 |
South Africans who have played for Wakefield Trinity
This has been taken gleaned mainly from Wikipedia, a few websites I've linked to and club programmes over the years, as well as 100 years of Rugby - The History of Wakefield Trinity Football Club by John Lindley. Any errors are mine and images are copyright as stated, or taken from old Wakefield programmes. There's a real gap in information on what happened to them post-Wakefield so the focus is really on their careers up to leaving Wakefield.
In the 1958 season there were six players who represented Western Province who would one day turn professional, five of whom would enjoy spells at Wakefield, with mixed success: Jan Lotriet, Rudi Hasse, Ivor Dorrington, Alan Skene and Colin Greenwood for Trinity and future Wigan and Leeds player Tommy Gentles. This meant that they would never be able to play for either Western Province or the Springboks again upon return to SA.
Jan Lotriet
A 6' 3'' centre or winger who had played six times for Western Province, he would have been the first South African to have played for Wakefield, but delayed his arrival in order to get married.
He made his debut at number five in the 1958 Christmas Day game away to Castleford (where he scored a try in a 19-7 victory) but only played a further two games for Trinity - on the left wing against Doncaster where he scored a try and finally on the right wing away at Bradford Northern on the 4th April. In October 1959 he requested to be released from his contract after failing to fully adapt to both the rugby and the climate. Shown here being mobbed by autograph hunters shortly after his arrival. Copyright Yorkshire Evening Post.
Ivor Dorrington
Played for the Hamiltons club in Cape Town and was number 8 for Western Province from 1952-1957, making 43 appearances. He was in the WP team that won the 1954 Currie Cup against Northern Transvaal 11-8. Alan Skene was also in the WP team with Tom Van Vollenhoven playing for Northern Transvaal.
Married with two children, he was at Wakefield from 1958 to 1959, making his debut against Hunslet on 29th November 1958, the first time a Trinity match had been partially televised. In total he played 12 games (ten in the 1958-59 season and two in 1959-1960) and scored one try.
He requested to be released from his contract in Octbober 1959, two weeks after his compatriot Jan Lotriet.
Shown here with Keith Holliday just after he arrived. Copyright Yorkshire Evening Post.
Image of Ivor Dorrington (Western Province) and Tom Van Vollenhoven (Northern Transvaal) playing rugby union against each other in South Africa before moving over to English rugby league.
Alan Skene
Born: Cape Town, South Africa, 1932
Died: George, South Africa, 2001
Alan Skene played centre for Villagers and also for Western Province from 1954-58. He won a Springbok cap against France at Ellis Park Johannesburg on 16th August 1958.
He was brought over to England on the recommendation of Ivor Dorrington and made his debut on Christmas Day 1958 against Castleford at the start of the club's golden era. He formed a centre partnership with Neil Fox and scored 69 tries in 139 games including two in the 1960 Challenge Cup Final victory over Hull. Skene also played in the 1962 victory over Huddersfield and two Yorkshire Cup Final victories. His final game was against Swinton in November 1962. Image from the Trinity programme.
Lotriet, Dorrington and Skene only once played in the same team at the same time - a 52-2 victory on 28th February 1959 at home to Doncaster. Skene scored three tires and Lotriet one.
The only representative matches he played over here were against New Zealand and France as part of an RL XIII team. He represented South Africa at Rugby League twice against Australia in 1963 (lost 34-6 in Brisbane and 54-21 in Sydney.)
He returned to South Africa at the start of 1963 and after a short time went to Australia to play for South Sydney.
Colin Greenwood
Born: Cape Town, South Africa, 1936
Died: George, Western Cape, South Africa, 1998
Played centre for Noordelikes (Northerns) including a game against Ireland at Newlands in Cape Town and played for Western Province from 1958-61. He won the 1957-1959 Currie Cup that was played over two seasons in a league format (with the year in-between being used for the visit of the French touring team) and missed the 1960 Springbok tour of the UK by one casting vote, having played in the Tour Trial game.
He was signed by Wakefield in June 1961 on a three year contract after the Wakefield Chairman Stuart Hadfield's visit to South Africa. Image from the Trinity programme. The fee was £4,000 and he made his debut against York in August 1961. He was on the right wing for Wakefield Trinity in our 25-10 win over Wigan in the 1962-63 Challenge Cup Final.
His final game was on 7th March 1964 with Trinity records of 75 games and 32 tries.
With Skene and Prinsloo he played against France in 1962 as part of an RL XIII team and represented South Africa at rugby league twice against Australia in 1963 (lost 34-6 in Brisbane and 54-21 in Sydney)
After leaving Wakefield he played stand-off and loose forward later for North Sydney and Canterbury-Bankstown. He later coached North Sydney, returning to South Africa in 1971.
Jan Prinsloo
Born: Pretoria, South Africa, 1935
Died: Wellington, New Zealand, 1966
Johannes 'Jan' Albertus Prinsloo played on the wing for Western Province and won two Springbok caps against France in 1958. He came over to the UK and played for St. Helens from October 1958 to January 1961, playing 89 games and scoring 70 tries and winning the League Championship and Lancashire Cup in the process. Fellow South African Tom Van Vollenhoven was on the other wing for St Helens at the time.
Trinity paid our then record transfer fee of £9,000 in 1961 to bring him to Wakefield. Image from the club programme. He returned to South Africa in 1963 without the club's permission. The Workington programme of 9th March 1963 explains that he became unsettled following the death of his mother-in-law and serious injuries to his father-in-law in a car accident in SA. Johannesburg Celtic offered to take him on in exchange for a player. However, in the meantime Gert Coetzer came over to the UK from a different South African rugby league club. It seems to have been one unholy and confusing mess. This all occurred during a spell of bad weather where no rugby was played between 15th December and 2nd March.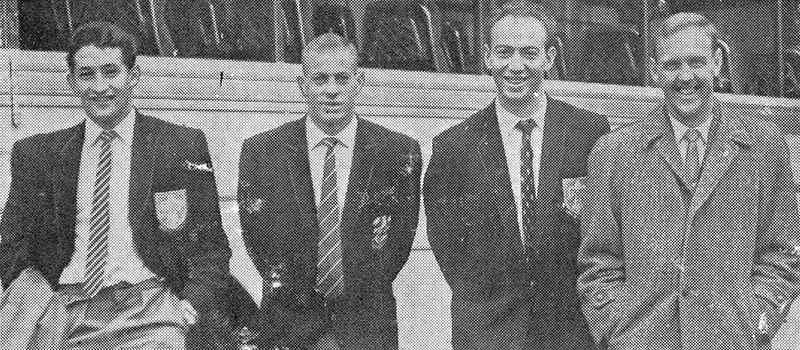 SA tourists Colin Greenwood, Tom Van Vollenhoven, Jan Prinsloo and Alan Skene prior to representing an RL XIII in October 1961 against France in Paris. Copyright Yorkshire Evening Post.
Gert 'Oupa' Coetzer
Born: Bloemfontein, South Africa.
'Oupa' is Afrikaans for 'Grandad'.
Gert Coetzer seems to have been an all-rounder – rugby, high jumping and sprint cycling. He made 44 appearances for the Orange Free State and had a trial for the Springboks in 1959.
Switching to rugby league, he played for Bloemfontein Aquila on Wakefield's 1962 tour of SA opposite Tom Van Vollenhoven who guested as a winger for Wakefield. Following this he came to England without a contract and secured a trial. Trinity liked what they saw and signed him before the trial period was over. Indeed, he arrived at Wakefield in February 1963 and was playing for the A team against Castleford only twenty-four hours later. His debut was on the 16th March at home against Liverpool City and he scored on his full team debut, going on to be top try scorer in the 1962/63 season with 14 tries, including scoring three in a 33-8 home victory against Leeds.
He played left wing and scored two tries when Wakefeild beat Wigan 25-10 in the 1963 Challenge cup final (diving try image from the Yorkshire Evening Post). He also played in both of Wakefield's League Championship wins – left wing when Trinity beat St Helens 21-9 in 1967 and right wing when we beat Hull KR 17-10 in 1968.
He was selected to play on the 1963 South Africa tour of Australia but sustained a shoulder injury during the opening tour match in Canberra and his tour was over. Indeed, following 191 games and 122 tries for Trinity he had to retire due to his recurring shoulder injury.
Rudi Hasse
Born: South Africa, 1935
Died: Cape Town, South Africa, 2011
Rudolph 'Rudi' Hasse was another product of the Western Province team and played for them from 1955-61 as a lock. He turned professional and spent three years in the UK as a second row forward, arriving in the UK with a wife and two young daughters. His first club was Bradford Northern, whom he played for prior to them going out of business in December 1963. It must have been very difficult with crowds as low as 324 at Odsal against Barrow. Ironically he was also at the same club as non-white South Africans, and could never have played in the same team as them in SA - Goolam Abed and Enslin Diambulo. Here's an image of Rudi when at Bradford Northern.
Following the demise of Northern, he was signed on the 11th January 1964 and made his A-team debut at the end of January. Rudi made six starts for Wakefield, making his winning first team debut on the 15th April 1964 against Batley, a 38 - 11 victory. He scored tries against both Hull and Widnes, and in October 1964 was a substitute against Featherstone (replacing Murphy) and the following match at Batley. This was the first season where up to two substitutions were permitted as long as they came on the pitch before the start of the second half. Rudi had the misfortune to be in a very competitive Trinity team, and was unable to break through fully into the first team.
With a homesick wife he returned to SA and stayed in South Africa, although he was at one time keen to go to Canada to begin a new life. His daughter's blog is here.
David Barends
Born: Bredasdorp, South Africa
As a non-white he was not considered for the Springboks, playing instead for the South African Coloured Rugby Union. He came from the Roslyns coloured rugby union club in December 1970, again with the help of Ivor Dorrington, with Wakefield paying an initial signing on fee of £1,000. He scored two tries on his debut on 13th December at Belle Vue against Blackpool Borough and stayed for three years, scoring 22 tries with his final game on 2nd May 1973. He later played for York, Bradford Northern (1977/78 – 1982/83 – 202 games and 70 tries) and Featherstone.
He won caps for Other Nations whilst at York and Bradford and for Great Britain (qualified by residency) in 1979 against Australia (two caps.)
Picture of him here and as a Bradford player when they won the Premiership in 1978.
He still lives in Yorkshire. There's a couple of interesting articles about him here and here. There's also a good article here about the difficulties faced by both black and white rugby league players in South Africa
Nick du Toit
Born: Welkom, Orange Free State
Nick was brought from South African rugby union to Wigan by Maurice Lindsay in November 1984 and was a 1985 Challenge Cup final substitute, playing 62 games and scoring 15 tries and one goal. He moved to Barrow in 1986 (scoring 10 tries in 45 games) and won promotion with them in 1988/89. As he was struggling to get into the team he set up a removal business but ended it when he got the opportunity to join Trinity.
He joined at the same time as Ged Byrne and Chris Mortimer in September 1990 with his debut being away to Hull KR on the 30th September, which we won 18-12. He also scored a try in the Battle of Belle Vue against the Australians on the 10th October. The programme of the Widnes match following that game describes it as 'barnstorming' although to me the match was all about getting Mal Meninga's autograph in my Heroes of International Rugby League book.
Nick and his wife Sharon went on Every Second Counts in 1991 where they not only had the pleasure of meeting Paul Daniels but also won a holiday for two to New York and a washing machine and tumble dryer.
His last game for Wakefield was a 25-6 away victory at Rochdale in the final match of the 1990/91 season. In total he scored two tries from 16 starts, with a further six appearences as substitute
A great story about Nick du Toit from Era of the Biff:
The programme editor kept putting him in the programme as 'Nick de Toit'. This reminds me of when Ray French pronounced Chris Perry's name as 'Chris Peray' during (I think) a Wigan v Carcassone match in the Nineties at the old Central Park ground.
It seems like he stayed in Wigan as a pub landlord after retiring from rugby league and and was in the news in 2009 for cycling from Blackpool to Paris in aid of the Cystic Fibrosis Trust.