Honours
League Champions:
1966-67, 1967-68
Challenge Cup Winners:
1908-09, 1945-46, 1959-60, 1961-62, 1962-63
Yorkshire Cup Winners:
as a union club:
1879, 1880, 1883, 1887
as a league club:
1910-11, 1924-25, 1946-47, 1947-48, 1951-52, 1956-57, 1960-61, 1961-62, 1964-65, 1992-93
Yorkshire League Winners:
1909-10, 1910-11, 1945-46, 1958-59, 1959-60, 1961-62, 1962-63
Division One Winners: 1998
Record attendance
37,906 (21st March 1936 Leeds v Huddersfield, Challenge Cup semi-final)

Club record:
30,676 (26th Feb 1921 v Huddersfield - Challenge Cup First Round)
Wakefield Trinity Rugby Union Results 1873-1895
The Rugby Football League was founded in 1871 and there's excellent information about the early days of rugby here. I've got most of this information from online newspaper resources or from the British Library, and very interesting it is reading the Wakefield Express from those days! It's sometimes tricky working out who won a game as the score wasn't always mentioned, the method of victory altered and the points were different in different newspapers, especially regarding minor points (touchdowns, dead balls and touches in goal), as these were deemed less important and were eventually dropped as the scoring system evolved.
The results are for the majority of games, but aren't definitive. I've double checked the scores, but there's plenty of scope for fat fingers, typos and general befuddlement when compiling the results. It's been fasciniating going back to the early stages of the game's development.
As an aside, what we know as 'full time' was called 'no side' in the early days, and matches were frequently shortened due to light and return train requirements. In addition teams didn't also turn up with fifteen players (it only changed to thirteen in 1906). Matches were played in three feet of snow and on quagmires, so when a game was postponed we know that the conditions were really bad!
'G-T-M' stands for 'goals-tries-minors'.
1873-1874
The start of the mighty Wakefield Trinity! Confusingly, there was also a Wakefield team, founded slightly earlier and against whom we played our first matches. I've found a newspaper report of our second game, which finished ten minutes early due to a disputed touchdown scored by the other Wakefield.

The other Wakefield team were also recently established, having played Leeds Grammar School on Woodhouse Moor on 11th December 1872 and suffered the Leeds team crossing their line 71 times under 'Wakefield rules'...

A game was decided by goals scored, so it was a draw if no goals were scored or an even number of goals were scored.

Games were initially few and far between as the team got established, with all games against Yorkshire opposition.

Trinity's games were played on Manor House field and crowds were good, with around 2,000 attending the Trinity v Huddersfield match.

The away game at Leeds St John's was played on gravel on a military drill ground. Unsurprisingly, a newspaper reports that play was not particulary good on either side, although the game did result in a draw in favour of Trinity.

The away match against Harrogate was a double header with Wakefield playing Harrogate (Low) and Trinity playing Harrogate on the same day

.

1874-1875
An excellent season against all-Yorkshire teams. Note the four different Bradford teams played.

Scoring goals continued to be the only way to win games.

The Halifax away game on Boxing day was played in three feet of snow and Trinity only played twelve men. A highly creditable draw in favour of Trinity was obtained.

The Trinity v Doncaster game was controversial, as in those days each team chose an umpire yet Doncaster didn't bring one. They then objected to the one they had asked to officiate and obtained the services of 'an Ackworth gentleman who did not seem to know the rules of the game' according to the local paper.

1875-1876
A challenging year to get results for. The fixtures were scheduled as per the Athletic News, but a bit more snaffling is required to find out the results of a number of games.


From my records Trinity's first ever trip outside Yorkshire took place on 20th November 1875 to face Rochdale Hornets, who were a more established team, having been founded in 1871.

The method of scoring changed. From November 1875 the match was still won by points, but if equal or no goals were kicked it was decided by tries. Minor points didn't count towards a victory.

On 5th February 1876 we played at home against a Harrogate team consisting of only twelve men, and drew as although plenty of minor points were recorded, no goals were scored.

Trinity played in Selby at Dairy House Close, which sounds more like a modern name for a sports stadium than a Victorian name.

York and Ainsty played their first game against Trinity at the Yorkshire Gentlemen's cricket ground in York.

In Feb 1876 three Trinity players guested for the other Wakefield club against Mirfield - TO Bennett, JW Whitehead and A Shires.
1876-1877
An excellent season, with the only non-Yorkshire team being provided by Rochdale Hornets.

The scoring system changed again. If a goal was scored from a try then only the goal was scored. Matches were decided by goals and, if no goals scored, by tries.'

On 6th January 1876 away to Bradford Albion, only half an hour's play took place before it got dark as Trinity's train was late arriving, and the game was played twelve a side as that was all Bradford Albion could muster.

The game away to Bradford Juniors was abandoned in the second half after a Trinity player fractured his leg.

1877-1878
The Yorkshire cup was initiated in 1877 and Trinity initially went through on minor points against Leeds St. John's, succumbing in the next round to Halifax, who went on to become the first winners of the cup by beating York at Holbeck in December 1877.

Manchester and District were played at 'Belle Vue' (but not the ground Trinity currently play at) under different rules to usual, presumably those of the Manchester area.

Harry Hayley became the first Trinity player to represent Yorkshire, playing against Middlesex at the Kennington Oval.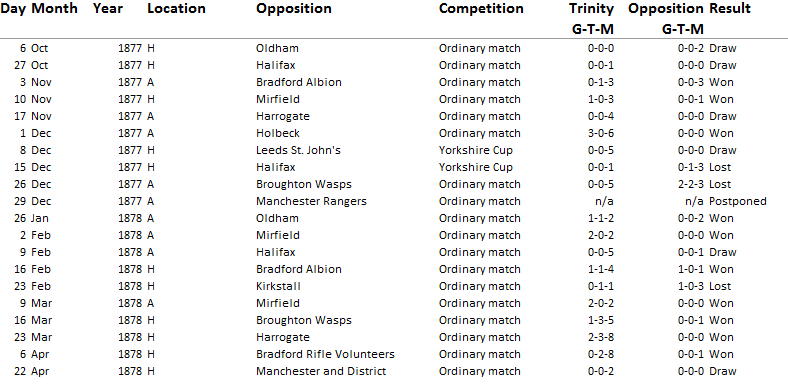 1878-1879
The first ever trophy was won by beating Kirkstall in the Yorkshire Cup final. It was a pretty brutal game with Baron Kilner coming back to Wakefield with one eye covered with a bandage!

Trinity played their first games under Association rules (i.e. played what we'd now call football) against Oulton home and away. And won both!




Swinton played in Yorkshire for the first time on 2nd November 1878 and the match against Trinity was drawn.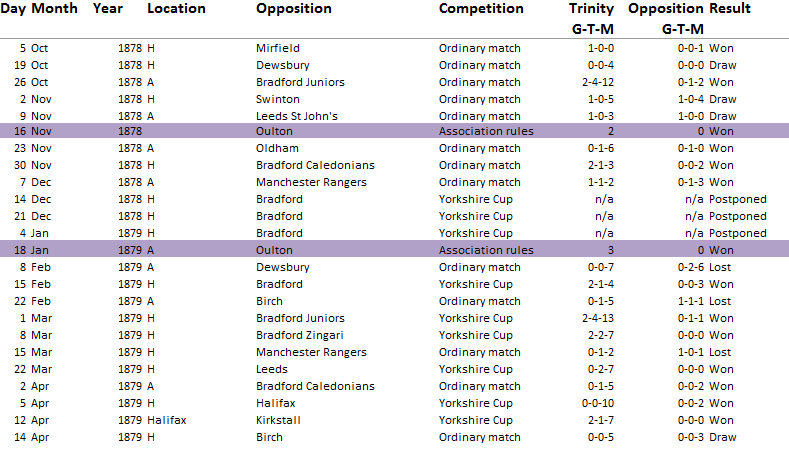 1879-1880
Trinity retained the Yorkshire Cup, beating Heckmondwike at Dewsbury.

The 10th January game against Badsworth Hunt was never played as the secretary of Badsworth was unable to raise a team as some of his star London players were unable to travel. A fixture against Dewsbury was hastily arranged, but it was agreed prior to the match that a draw would result whatever the score as the Dewsbury team wasn't representative. To balance up the teams the Kilner brothers agreed to play for Dewsbury.

Trinity played Association football against Hunslet. The drawn away game on 3rd January 1880 appears to be the last time that Trinity would play Association football.
1880-1881
The season commenced away to Cleckheaton and the opening of their new ground.

Trinity were denied a hat-trick of Yorkshire Cup wins by Dewsbury. It was noted that for the first time the two best teams in the county had played each other in the final. With scores level, a further 20 minutes were played in front of a crowd estimated at 15,000.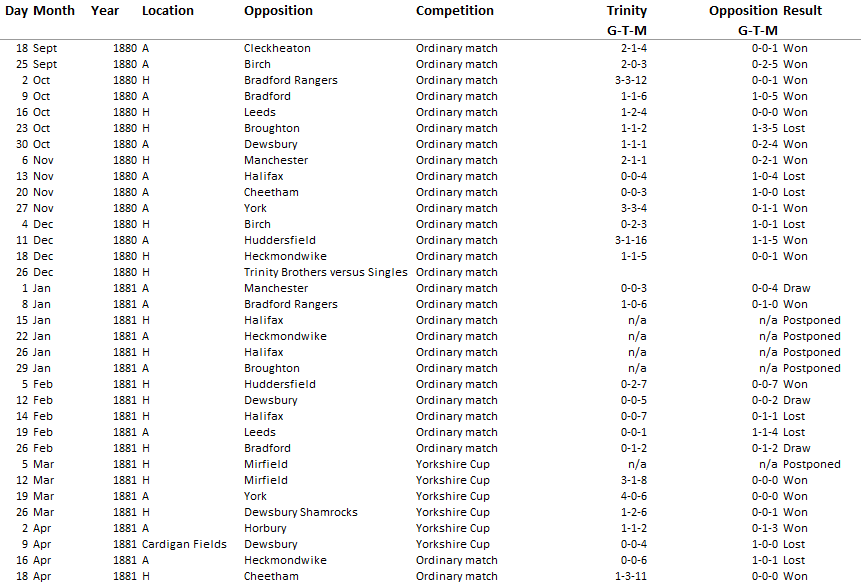 1881-1882
With a massive score of 6 goals and 7 tries to nothing, Trinity beat Birch, who were four players short.

The home game against Rochdale Hornets on New Year's Eve was saw only 25 minutes played each way due to the weather and the Hornets arriving late.

In January 1881 Trinity undertook a tour of Ireland, winning in Dublin and drawing in Belfast.

In the Yorkshire Cup Trinity started with an away thrashing of Leeds Hope Foundry, and the score would have been higher but for spectators breaking over the boundary towards the end of the game and forcing its abandoment.

For the second year running Trinity were defeated in the final, this time by the unfancied local team Thornes.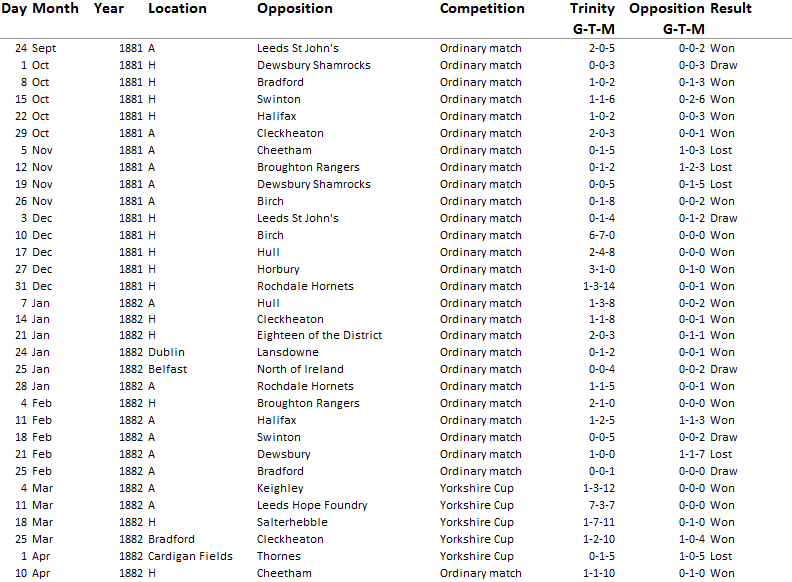 1882-1883
An excellent season ended with revenge in the Yorkshire Cup semi-final against Thornes at Halifax, followed by a magnificent victory over Halifax at Cardigan Fields, Leeds to win the Yorkshire Cup by 1 goal, 2 tries and 11 minors to nil.

Trinity played 34 games, winning 24, losing 5 and drawing 3 according to a newspaper report. Presumably the other two games were abandoned...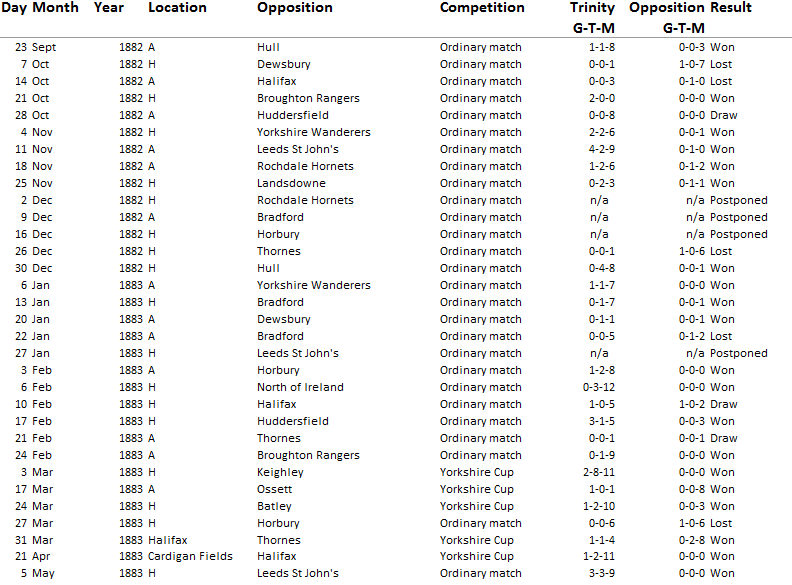 1883-1884
A magnificent season, with the majority of games won, despite a defeat in the early stages of the Yorkshire Cup to Heckmondwike.

An exhibition rugby game was played on the ground of the FA Cup holders Blackburn Olympic against Dewsbury in September 1883.

Trinity played 39, won 33, drew 2 and lost 4, scoring 58 goals, 43 tries and 196 minor points and conceding only 4 goals, 13 tries and 72 minor points.

Ireland was also toured and the mighty Cambridge University played home and away, with honours even.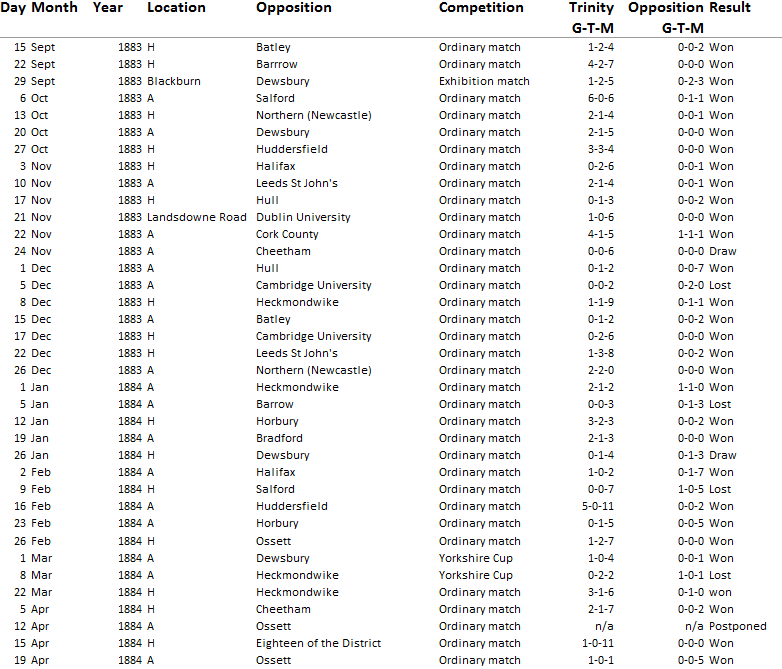 1884-1885
Another very good season: played 35, won 21, drew 5 and lost 9, scoring 35 goals, 27 tries and 144 minor points against 9, 13 and 66 for their opponents.

Jubb and Latham both scored 9 tries, with Bartram dropping 6 goals.

Trinity beat Cleckheaton in the Yorkshire Cup by minor points, which in an ordinary game would have been considered a draw.

Yorkshire Cup defeat was in a controversial manner at the hands of Dewsbury, where a crowd of 10,000 were at Crown Flatt. Due to a crowd invasion, the chance to kick a goal and therefore win the game following a late try was not possible. The result was upheld.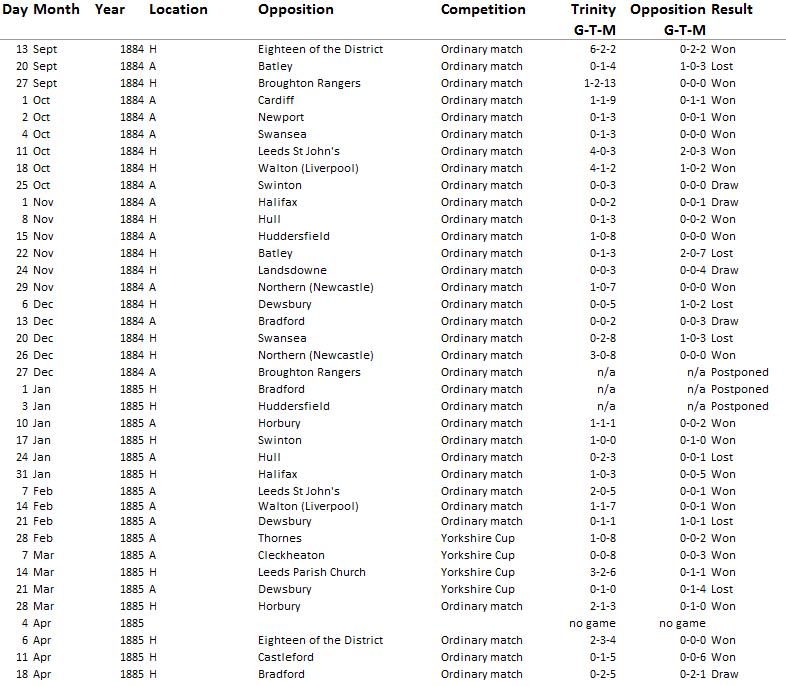 1885-1886
Overall a very good season, losing only five games according to my records.

Trinity fell at the first hurdle in the Yorkshire Cup, losing away at Halifax.

At home to Huddersfield the away team turned up two men short, so Trinity loaned them two players.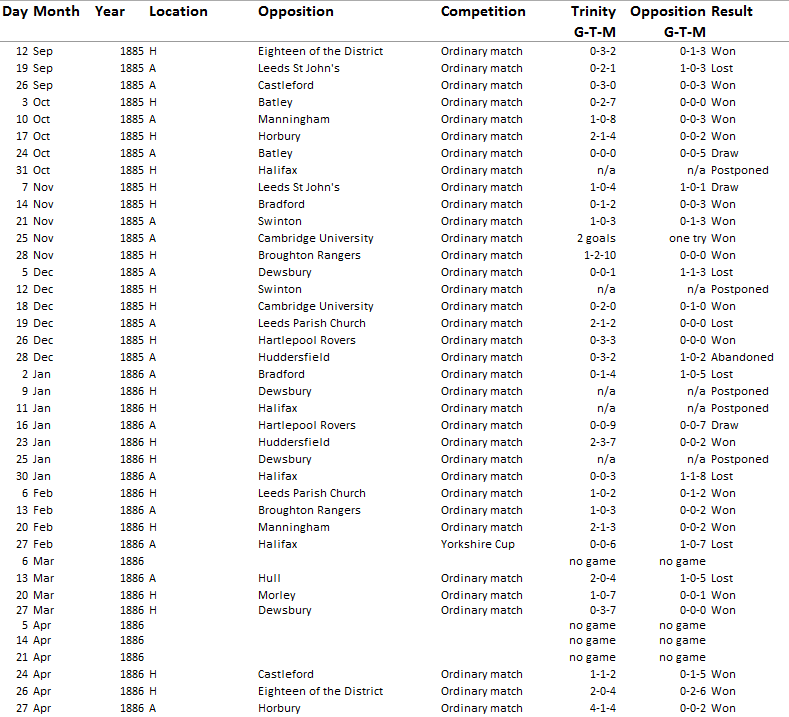 1886-1887
Of 36 games played, 25 were won, 4 drawn and 5 lost, with one game being abandoned. 37 goals, 53 tries and 166 minor points were scored, compared to 10 goals, 13 tries and 71 minors conceded.

The Yorkshire Cup was won again, with Trinity beating Leeds St John's at Halifax, having beaten Doncaster, Pudsey, Normanton, Batley and Ossett to get to the final.

Harry Dawson, H Hutchinson and J Latham all scored 11 tries. Bartram dropped and kicked 6 goals.

Successful short tours of both London and Birmingham proved very successful, with the Dublin team coming to Belle Vue.

on 18th September 1886 Trinity played away against Wigan in the first ever game at Prescott Street (the Wigan ground before Springfield Park and then Central Park). And lost.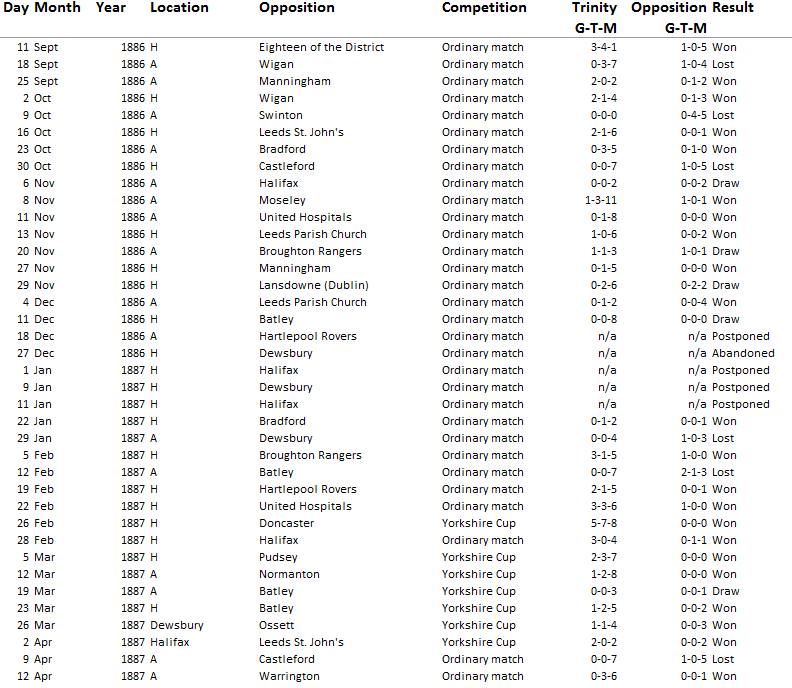 1887-1888
Played 39, won 25, drawn 4 and lost 10, scoring 26 goals, 43 tries and 167 minor points against 12, 12 and 51. Latham scored 16 tries.

The Yorkshire Cup was lost in the final at Cardigan Fields, Leeds against Halifax

A tour of Wales was also undertaken.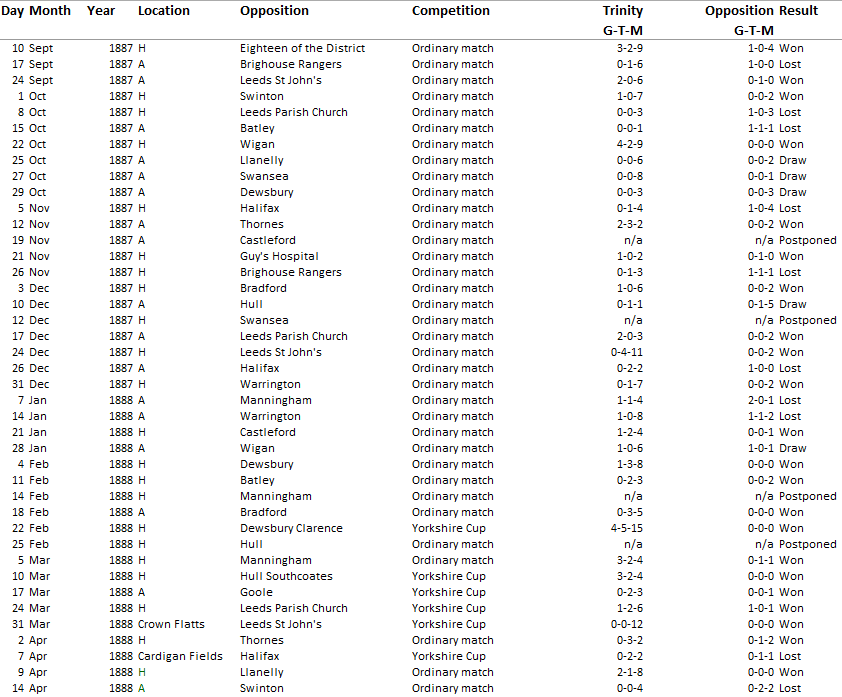 1888-1889
Another excellent season, playing 40 games, winning 35, drawing 2 and losing 3, scoring 55 goals and 77 tries against 5 goals and 21 tries.

The New Zealand Maoris were the first touring team and were played in October 1888, with Trinity winning by a try.

There was also a brief tour of Cumberland and Scotland in the October

Trinity came unstuck in the Yorkshire Cup against Liversedge at Crown Flatt, Dewsbury in front of about 5,000 spectators.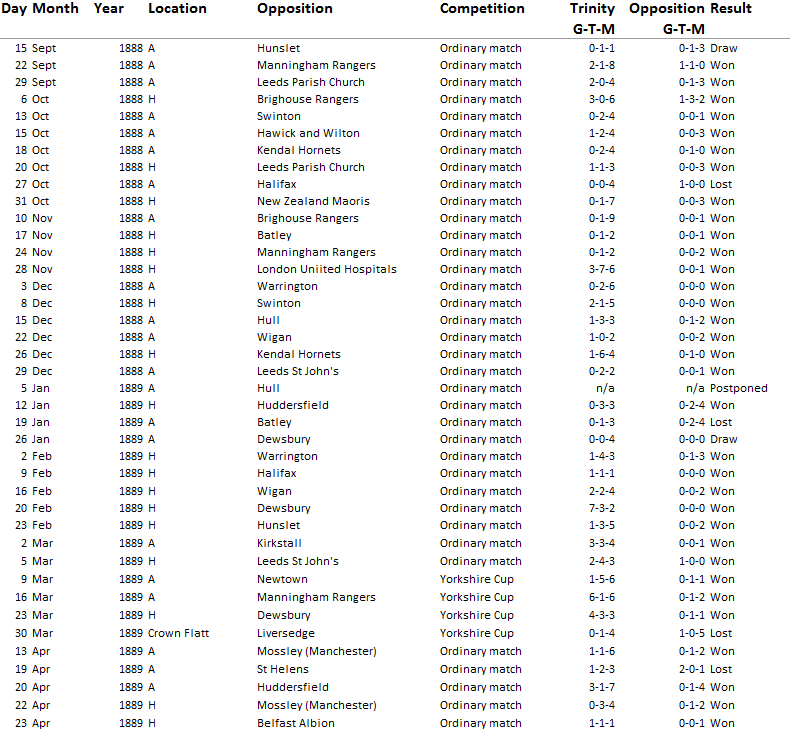 1889-1890
At the start of the season Trinity were suspended by the Yorkshire Committee for eight weeks due to a charge of professionalism.

Played 36, won won 22, drawn 2 and lost 12.

There were a number of defeats due to games having to be played midweek later in the season as a result of the initial suspension. This meant that it wasn't possible to field representative teams in all games.

32 goals, 34 tries and 125 minor points were scored and 17 goals, 27 tries and 66 minor points were conceded.

In the final game of the season at home to Manningham the opponents turned up with only nine men, although substitutes were found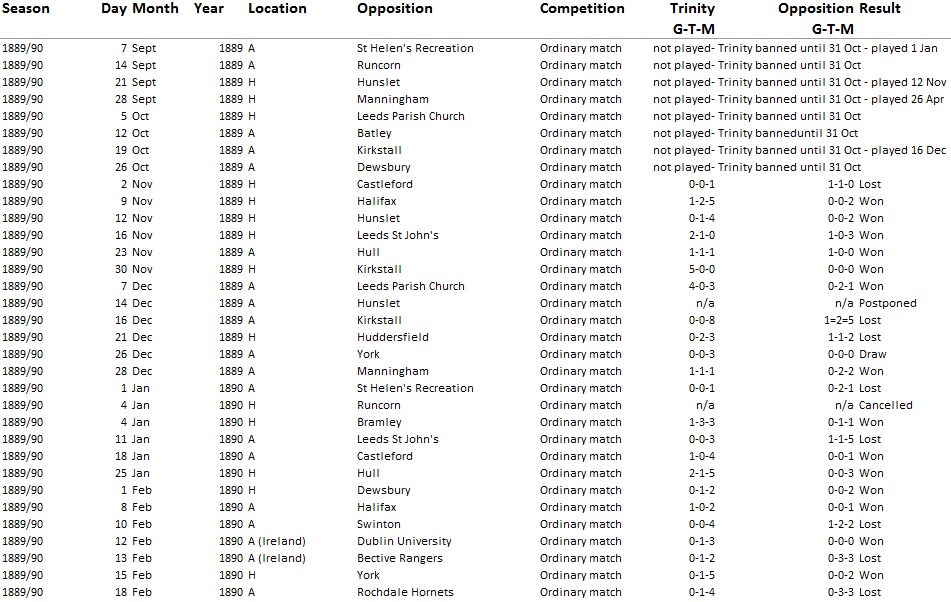 1890-1891
Played 36 matches, won 15, drew 4 and lost 17. Scored 22 goals, 34 tries and 102 minors.against 26 goals, 27 tries and 49 minor points.

Bedford scored 9 tries and Whiteley kicked 9 goals from tries.

Away at Holbeck, Trinity initially refused to play due to the state of the ground. In the end it was agreed that an exhibition game would be played, with a draw being the result.

In the game away to Oldham only two halves of 20 minutes were played due to the Trinity team arriving late as a result of a missed train connection at Brighouse.

The Bective Rangers game was abandoned, scheduled to be played the following day and then abandoned again.

Trinity had an excellent Yorkshire Cup run, beating Batley, Holbeck, Wortley and Huddersfield before losing in the final to Pontefract at Leeds. This was the last game in which a maul over the try line was permitted - if the attacking team couldn't ground the ball the referee blew for a dead ball after a minute or so.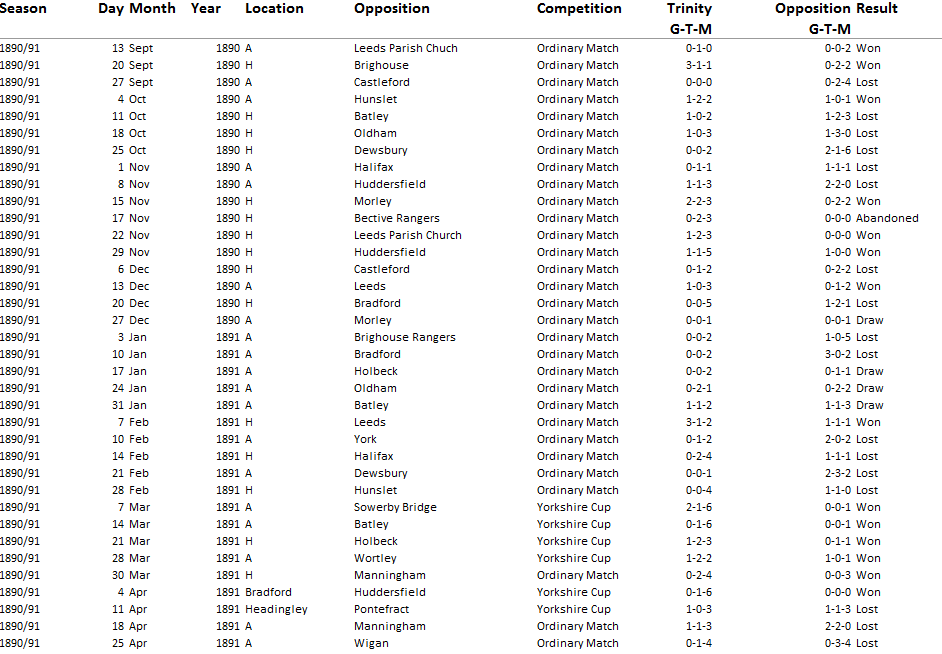 1891-1892
A tour of Cardiff, Penarth and Gloucester was undertaken.

The Yorkshire Cup semi-final was lost to Leeds at Park Avenue in a closely contested contest.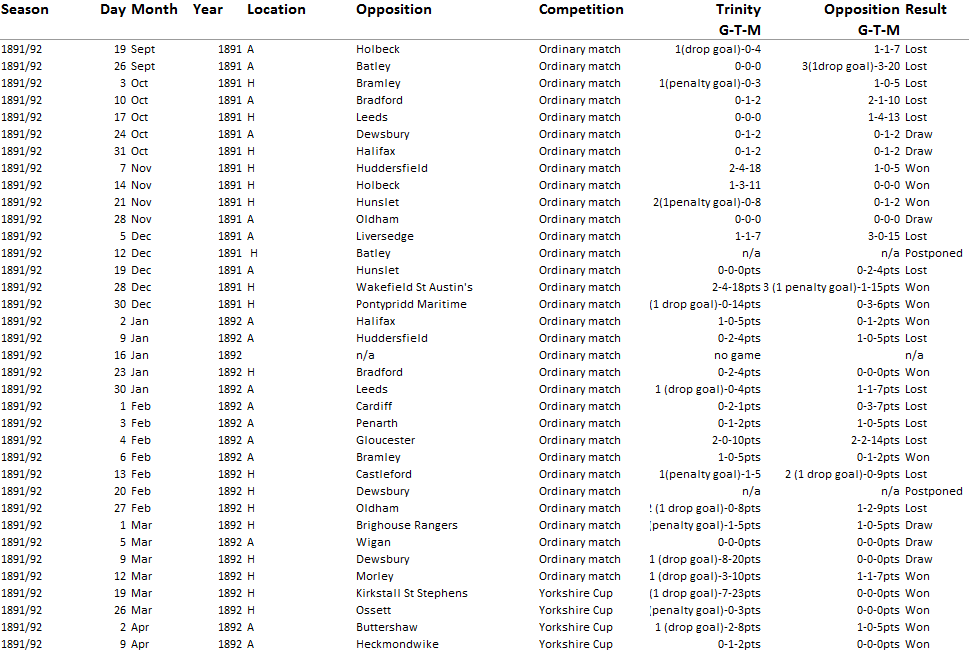 1892-1893
A shockingly poor season, full of defeats and mutiny in the ranks.

In the Yorkshire Senior Competition for Trinity, winning once (Dewsbury at home), drawing once (Hunslet at home) and losing sixteen times, finishing rock bottom by a clear margin.

The mutiny was initially caused by a run of defeats, with the team then proposing to submit a name of 18 players for selection to the Committe. This was initially agreed upon, and the team played better, albeit continuing to lose. However, the Committee decided to drop one player, and a clique of players, led by senior player Harry Dawson disagreed. He had played for Trinity since 1883 and was expelled along with J Dawson, R Dawson, T Harnell, W Varley and W Walker. Walker claimed not to have played as he was never notified he was in the team. The team for the following game included payers brought in from Alverthorpe, Streethouse, Sharlston and Heckmondwike.

After a victory against Dewsbury in the Yorkshire Cup, the team were dumped out by Halifax in the next round.

The end of season was no better, with defeat to Wakefield St Austin's prior to a defeat to Wigan in the final game of the season.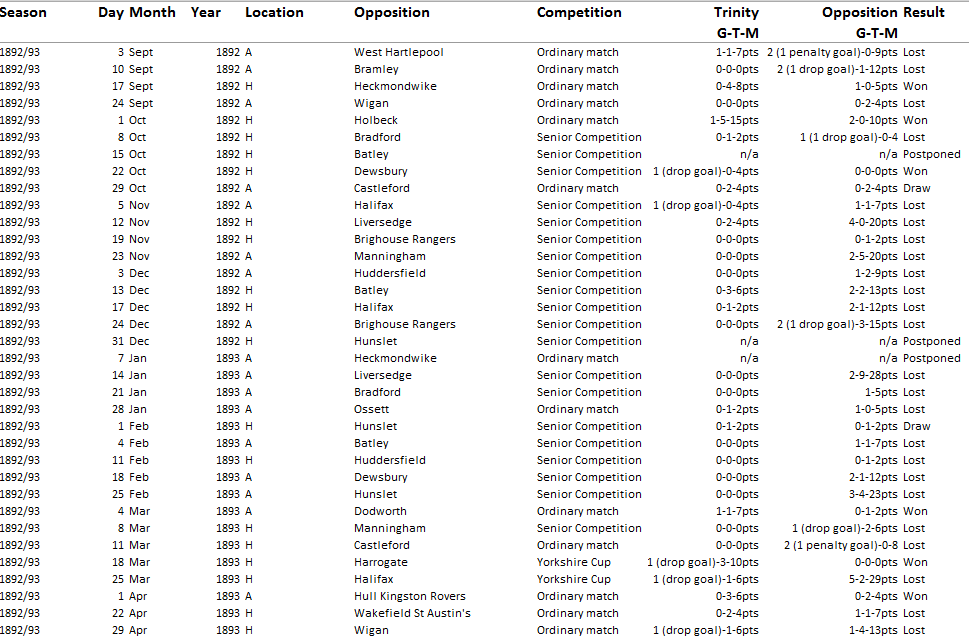 1893-1894
A new scoring system of 5 points for a goal after a try, 4 points for a drop goal and 3 points for a penalty or unconverted try was introduced.

Trinity had an average season, finishing ninth of twelve in the Yorkshire Senior Competition, winning 7, drawing 4 and losing 11. At least they were consistent, scoring 17 goals and 17 tries and conceding 21 goals and 21 tries.

There was a 41-0 thrashing away to Halifax on Boxing Day 1893, suggesting that some of the players had a festive Christmas Day...

Bramley surprisingly defeated Trinity in the Yorkshire Cup.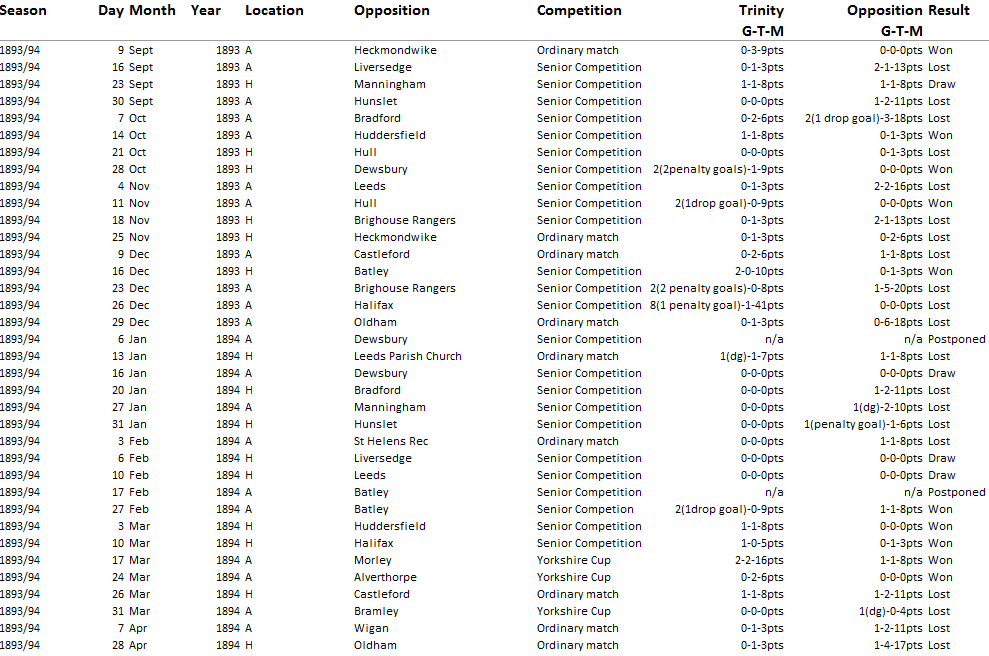 1894-1895
5 points for a goal after a try, 4 points for a drop goal and 3 points for a penalty or unconverted try.

A dreadful season, with Trinity, winning 3, drawing 2 and losing 17 in the Yorkshire Senior Competition and duly finishing bottom, although Hull only finished above Trinity on points difference.

Although Trinity beat Knottingley, Liversedge (the future league winners) and Dewsbury in the Yorkshire Cup, they lost in the fourth round to Morley.

In the game on 20/10/94 at home to Hartlepool Rovers O'Reilly, 'an American with a Hibernian name' according to the paper, played for Trinity.

The season is important as the final ordinary match of the season at Fartown against Huddersfield was the final Wakefield Trinity game under the auspices of the Rugby Football Union.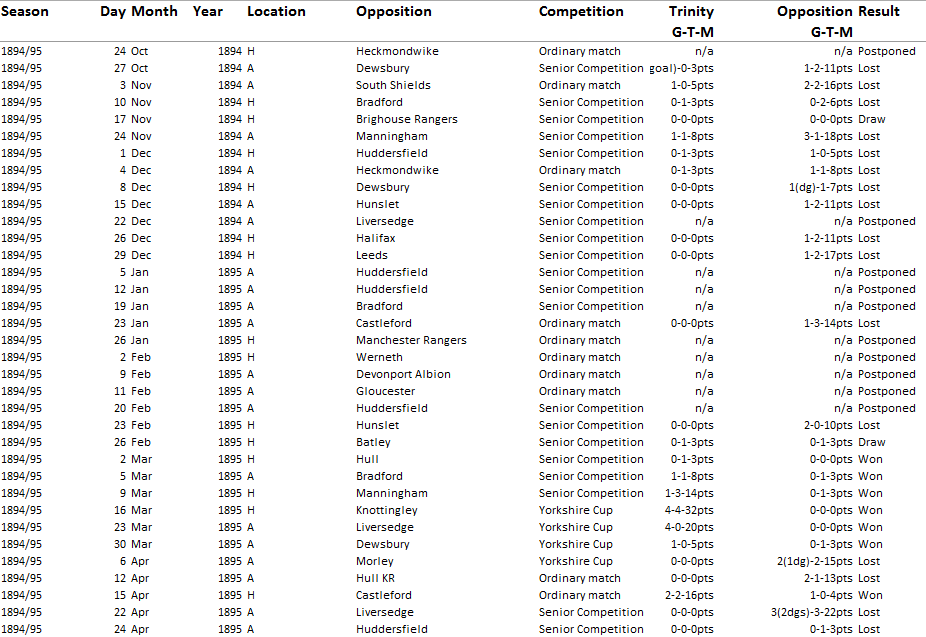 Coaches
Ken Traill 1958-70
Neil Fox 1970-74
Peter Fox 1974-76
Geoff Gunney 1976
Brian Lockwood 1976-78
Ian Brooke 1978-79
Bill Kirkbride 1979-80
Bill Ashurst 1981-82
Ray Batten 1982-83
Derek Turner 1983-84
Geoff Wraith 1984
David Lamming 1984-85
Len Casey 1985-86
Tony Dean 1986
Trevor Bailey 1986-87
David Topliss 1987-94
David Hobbs 1994-95
Paul Harkin 1995-96
Mitch Brennan 1996-97
Andy Kelly 1997-2000
Tony Kemp 2000
John Harbin 2000-01
Peter Roe 2001-02
Shane McNally/Adrian Vowles 2002-03
Shane McNally 2003-05
Tony Smith 2005-06
John Kear 2006-11
Richard Agar 2011-2014
James Webster 2014-2015
Brian Smith 2015-2016
Chris Chester 2016-2021
Willie Poching Sept 2021 to 2022
Mark Applegarth 2022 to 2023
Daryl Powell 2023 to date